Hemel dad urges people to think of others after 'distraught' son's fruit trees were destroyed
John wants people to think about the consequences of their actions
Monday, 21st June 2021, 5:07 pm
Updated
Monday, 21st June 2021, 5:08 pm
A man from Hemel Hempstead is urging people to have more social awareness after his autistic son was left devastated when he found his fruit trees at their had been destroyed.
John Rutherford says his 12-year-old son, Matthew, was 'distraught' after seeing the damage at his allotment in Bennetts End Road Allotments on Saturday morning - John believes the area next to Matthew's allotment was set on fire.
John said: "I'm so angry, this isn't fair, and I'm sure no one meant to hurt a 12-year-old boy but that is what has happened as a result of their actions.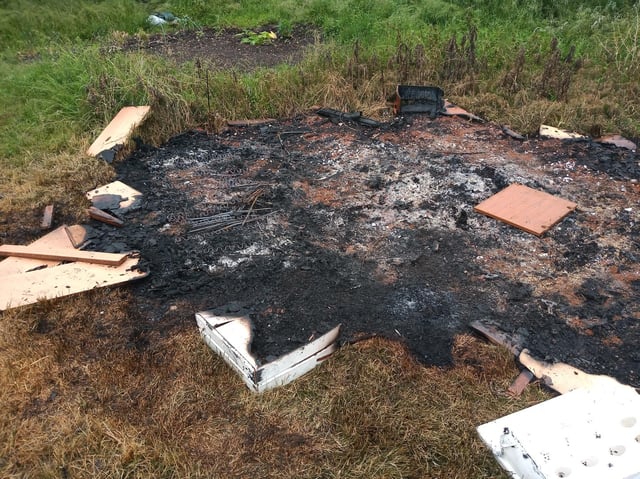 Plants and fruit trees in Matthew's allotment were damaged when the area next to it was vandalised
"I just want people to have more social awareness and consideration for others.
"I want people to think about how their actions can affect others.
"Like many families with children with special needs we struggled during lockdown, a lot of the places that Matthew would normally go to were closed.
"In October/November we were given one of the allotments at Bennett's End.
Matthew with his sunflowers on the allotment
"Matthew has been really enjoying it and has been going there most days.
"We live in Leverstock Green and he would scoot there and enjoy planting things and seeing them grow, we saw him begin to really enjoy something again, it was great.
"We went up there this weekend and I could see straight away that something had happened.
"We have pirate flags on the corners of his allotment so he can easily identify which one is his, and they weren't there.
Plants and fruit trees in Matthew's allotment were damaged when the area next to it was vandalised
"As we got closer we could see the damage, it looked like a huge bonfire.
"It looks like fly tipping that someone has set on fire, you could see springs, possibly from a mattress, and there was a lot of wood.
"It was just next to his patch, but any plants/flowers that were close by were damaged.
"His fruit trees, which were the first thing he planted, were damaged, two of them were burnt to a crisp and one is quite badly damaged.
"He was distraught, he went their every day and watched them grow and looked after them.
"I'm not sure how they got in, the area is quite secure.
"I contacted the Allotment Department at Dacorum and they have been great - very sympathetic and keen to find a solution.
"I think they are discussing ways to improve the security there, and they said they would send someone to clean up the mess.
"Some of the wood and other mess has actually already been cleared, I'm not sure who by though.
"I want people to think more and show consideration to other people.
"I'm sure whoever did this did not think they were going to destroy a little boy's allotment patch and all his hard work, but that's what has happened and he is distraught."
A spokesperson for Dacorum Borough Council, who manage the allotments, said: "We have been in conversation with Mr John Rutherford since early Monday morning via e-mail. Like John, we were dismayed that someone could blatantly cause damage to another person's property which, in this instance has caused so much sadness and upset to John and his son.
"We requested a maintenance team to attend site initially to clear up the mess left behind by the fire, but John told us subsequently that it had mysteriously been cleared, again by someone unknown. Perhaps the culprits felt a touch of remorse, we would like to think so.
"It is very difficult to take action against anyone without solid proof of who was responsible, it could be construed as criminal damage.
"The area is protected by a security fence and gates, with a combination lock, however, it has been said that the gate may have been left unlocked.
"John has informed us that it may be a few weeks before he knows if some plants will recover from the fire, particularly a fruit tree. We have told him we will gladly arrange replacements for him.
"We will continue to monitor our allotment sites, and further discussions will take place to investigate ways of increasing security at the site, again it is difficult, as many allotment sites are remote and vulnerable to anti-social behaviour."