Dacorum Borough Council celebrates 'Family and Friends' month with unique competition
What does family mean to you?
Wednesday, 5th August 2020, 11:50 am
Dacorum Borough Council is celebrating 'Family and Friends' month this August with a unique competition that has been launched to mark Hertfordshire Year of Culture 2020 (HYOC2020) and Herts Pride.
The council is asking people to describe their family and the winner will see their words literally come to life.
Over the last 50 years, family shape has changed a lot and the council would like to hear about your experiences of family in Dacorum.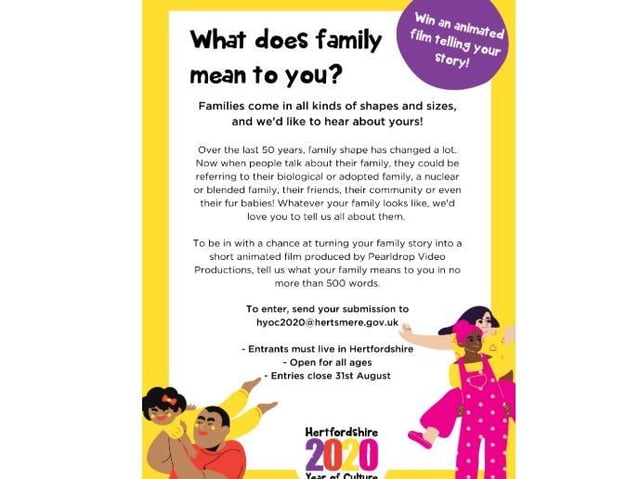 Dacorum Borough Council celebrates 'Family and Friends' month with unique competition
Now when people talk about their family, they could be referring to their biological or adopted family, a nuclear or blended family, their friends, their community or even their fur babies.
For 'Friends and Family' month this August, Hertfordshire Year of Culture 2020's latest competition asks residents to share what family means to them in no more than 500 words.
As August is traditionally Herts Pride, entries from the LGBTQ+ community on their experiences of family will be particularly welcomed.
Julie Banks, Portfolio Holder for Community and Regulatory Services and HYOC2020 Member Champion, said: "This is a wonderful opportunity for residents to share their stories about family and for one lucky winner to see their story turned into a short film.
"We want to encourage as many local people as possible to get involved and I can't wait to hear about the variety of family experiences here in Dacorum."
Entries will be considered by a panel of judges, including award winning scriptwriter and broadcaster Nicholas McInerny, who was born in Hertfordshire.
The winning entry will then be turned into a short animated film which will be published on to the community archive website, Herts Memories, and become part of Hertfordshire's local history record.
Hilary Shade, Chair of the Hertfordshire Association of Cultural Officers, who are leading on the HYOC2020 campaign, said "The importance of family, whatever that means to us as individuals, has been highlighted over the last few months as we've been unable to see our loved ones face to face.
"We want to hear about your experiences of family – that could be new relationships that have developed as a result of the pandemic, what it's like to be part of your family or memories and experiences from your own past.
"We know that not all families are made up of blood relatives and are particularly keen to hear about these, to capture the reality and diversity of family experiences from across the county."
Entries can be in the form of short stories, poems, diary entries or any other form of creative writing and should be submitted to [email protected] by August 31.
There is no age restrictions for entrants and the competition is open to anyone living or working in Hertfordshire.
The competition will form part of a wider celebration of creativity under the banner of Friends and Families for the duration of August for HYOC2020.
In support of Herts Pride, which is being held this year as an online fundraising event, projects and stories involving LGBTQ+ residents will also be celebrated in August and there's a chance to contribute to a Herts Pride Playlist on Spotify.
If you're looking for something to entertain the kids, then the HYOC Activity Pack will be launching during August too, filled with quick and easy creative activities submitted from local organisations.
If you are a local organisation and have a creative activity that you would like to submit, visit the Creative Hertfordshire website - www.creativehertfordshire.com - for more information.
HYOC2020 is supported by all 11 Hertfordshire local authorities, the Programme Board has additional representation from the University of Hertfordshire, Visit Herts and Trestle Theatre Company.