'Tremendous progress' of vaccination programme reported to Hertfordshire councillors
But, the number of vaccinations in Hertfordshire could have been even higher, were it not for 'fluctuations' in vaccine supply
Wednesday, 17th March 2021, 3:46 pm
Updated
Wednesday, 17th March 2021, 3:48 pm
More than 360,000 adults in Hertfordshire have received at least one dose of the Covid-19 vaccine, data shows.
And the number of vaccinations in the county could have been even higher, were it not for 'fluctuations' in vaccine supply.
At a meeting of Hertfordshire's health scrutiny committee on Tuesday, March 16, councillors noted the "tremendous progress" in setting up the vaccination programme in the county.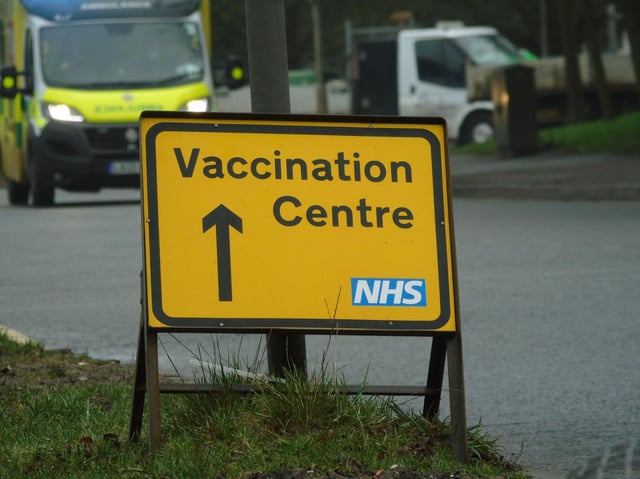 Vaccination centre (C) Jordan Lewington
They heard that by February 11, more than 250,000 residents had received their first vaccination across Hertfordshire and west Essex.
And more recent data – obtained by the Local Democracy Reporter Service, following the meeting – shows that by last week (March 11) that figure had risen to 461,620 – with 364,343 of those being Hertfordshire residents.
But committee members also heard that some services have had to change vaccination plans at short notice – when vaccine allocation fell below the delivery capacity of the service.
And 'fluctuation' in the supply of the vaccine was highlighted to the committee as one of the challenges.
Dr Jane Halpin – chief executive of the Hertfordshire and West Essex Integrated Care System and the CCGs – revealed that over the last month or so there have been times when health workers could have delivered TWICE as many vaccines – had the vaccines been available.
In response to a question from Conservative Cllr Dave Hewitt, Dr Halpin said: "Nationally the supply of vaccine – particularly over the last month or so – has been below our capacity to deliver vaccine.
"It's not specifically a Herts and West Essex issue, it's been a more general issue.
"Essentially what we have got is – roughly speaking – double the capacity to deliver vaccines than we have been receiving.
"Now that supply – from this week forward, we are being told – is going to be greatly increased what we should be able to do is effectively double the rate at which we are vaccinating people.
"And that's obviously going to be important because we are starting now to do more and more of the second doses as well."
Councillors heard that vaccinations began in the county at the Lister Hospital, in Stevenage, on December 11.
And since then vaccines have been delivered through hospital sites, GP surgeries and the larger vaccination centres.
The network of hospital and NHS Trust sites includes the Lister and Princess Alexandra hospitals, as well as Watford Football Club, which neighbours Watford General.
Large vaccination centres – accessed through the national booking system – are operating in Stevenage, Harlow, Bishop's Stortford, Welwyn Garden City, Hemel Hempstead and Watford.
And there are 28 'local vaccination services' across the Hertfordshire and West Essex area run by 'primary care networks', delivered largely through GP practices – but which has included a 'drive-thru' in St Albans.
Other sites are reported to have been identified in the county in readiness for the vaccination programmes move into larger 'cohorts' and second doses.
According to the report 90 per cent of over-75s have had the vaccine- and 80 per cent of those aged between 70 and 74.
But the report also points to some indications that NHS staff from a BAME background are 'slightly less likely' to accept vaccination.
And it acknowledges that take-up levels may reduce as the vaccination programme moves to younger age cohorts.
"Informally, it is recognised that the very high levels of motivation and compliance with vaccination may not be replicated as the programme moves into other cohorts," says the report.
"Elderly people and others who have had very restricted social contact for close on a year have come forward in very large numbers, turning up to 99 per cent of appointments (often a little bit early, just to be on the safe side).
"We can't rely on this being the case as vaccination is offered to cohorts who are at a lower proportionate risk of serious Covid infection or death."
Latest available data - published March 11 - shows that across Hertfordshire and West Essex 461,620 people have received a first dose of the vaccine – with 28,335 receiving a second dose.
That figure includes 364,343 first doses for Hertfordshire residents. And the data shows that 22,360 Hertfordshire residents have already received a second dose.