Hemel schoolboy features in new book celebrating 'yarn bombing' craze during lockdown
A very British yarn: how postbox graffiti knitting helped people cope during the lockdowns
Wednesday, 30th June 2021, 11:06 am
Updated
Wednesday, 30th June 2021, 11:08 am
A Yarnbomber from Hemel Hempstead and her son have featured in a new book that explores a viral craze which saw communities create postbox toppers across the UK.
Eloise Swain and her seven-year-old son Nathan, of Leverstock Green Road, are part of Yarn Bomb Hemel Hempstead, and during lockdown they created several postbox toppers for different themes.
Lockdown Letterboxes: A very British yarn, is a book by Belinda Goldsmith which showcases the emergence of graffiti knitters and crocheters making covers for the famous red post boxes during lockdown.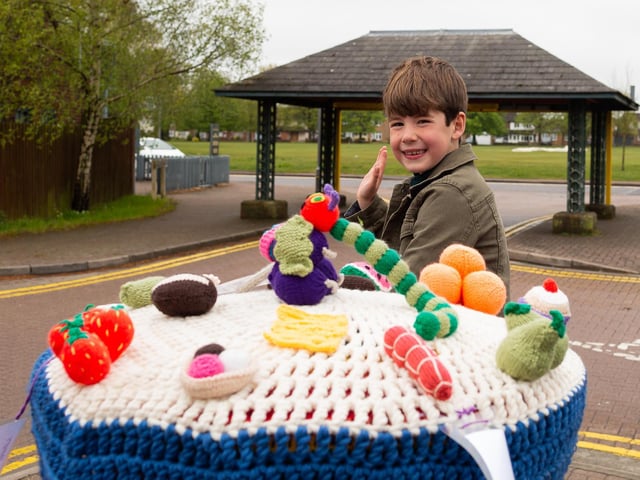 Nathan who is one of the 16 people who feature in the book talking about lockdown and why he got involved with toppers
Author Belinda Goldsmith said the aim of Lockdown Letterboxes was to show how everyone's lives changed during lockdown, through the eyes of people who have used knitting needles and crochet hooks to cope with this unprecedented social turmoil.
A funny thing happened during the three coronavirus lockdowns in the UK. Brightly coloured knitted and crocheted art works started appearing on top of letterboxes across the country.
Adorned with knitted animals, nurses and even the Queen, they became an outlet for all sorts of people who were trying to deal with the pressures of lockdown.
'Lockdown Letterboxes: A very British yarn about postbox graffiti knitters during COVID"' has being published to raise money for YoungMinds, the UK's leading charity fighting for children and young people's mental health.
Nathan next to one of the postbox toppers
Written by journalist Belinda Goldsmith, it features 16 case studies from around the country of people aged seven to 80 who got crafty to cope with the unprecedented social turmoil caused by lockdown.
The book, which has featured on BBC Breakfast, Channel 5, ITV, London Live, also includes stories of mystery and crime with a police investigation into a mass theft ongoing.
Belinda said: "I could not imagine a more British way to cope with one of the most challenging times the country has faced.
"During this bleak period thousands of people across the country picked up knitting needles and crochet hooks to keep busy and brighten up their communities."
Lockdown Letterboxes: A very British yarn
"Like many people during lockdown I worked from home and got into the habit of going for a run every day.
"On one of my morning runs I spotted a post box topper, I took a picture and posted it online and it seemed that this was something that was happening all over the country.
"I thought it was really interesting and started to look into it more.
"Many people had started to knit and crochet these toppers for postboxes during lockdown, and they were really amazing.
Yarn Bomb Hemel Hempstead
"The book is about how everyone's lives changed during lockdown, including this unique and interesting trend of creating postbox toppers.
"I got a team together and we decided to create a book, and the money we raise will go to charity.
"We chose YoungMinds charity who are a mental health charity for children and young people.
"The yarnbombers in Hemel are amazing, such a great group.
"They were established before lockdown and some of the displays and toppers they have created are really great.
"I did a lot of research into the yarnbomb craze and spoke to lots of people, everyone was lovely, and they all really enjoying creating these toppers.
"Hemel are a really active group, they've recently created some for Armed Forces Day..
"The ladies in the group are exceptional and they are a great group.
"The toppers really brighten up your day when you see them, and I think they put a smile on everyone's face.
"Nathan is only seven and is such a sweet lad, he got involved with this while he was off school and was helping his mum, he really enjoys it.
"It has been a great outlet for him during lockdown, and he is an example that anyone of any age can get involved."
Eloise Swain said: "We got involved in creating the toppers through Hemel Yarnbomb, where I am a member.
"We took part in various postbox topper themes.
"There is usually a theme behind our toppers, we have had military ones for Remembrance Day and Armed Forces Day, children's books for World Book Day, different ones for charities and lockdown heroes.
"I really enjoy doing it, but what I like most is the happiness it brings to other people.
"When we have been putting them out we have people stop us and tell us how much they like them and like seeing them across Hemel.
"I like being part of something that makes people happy.
"Nathan got involved with the book toppers, I asked him what his favourite book was, and then he wanted to help put it together.
"He thinks the book is very special because it shows everyone who helped make the toppers, how it all started and all about life in lockdown and how people turned something sad into a happy time."
Nathan said: "I think the toppers are really good because the people who made them put in a lot of effort to make others happy, especially during the lockdowns."
Yarn Bomb Hemel Hempstead was first established in 2018 when a group of residents got together to show support for the Poppy Appeal.
Christine Allsopp, who started the group Yarn Bomb Hemel Hempstead, said: "They featured one of our ladies and her son in the book.
"She came down to meet us and she was lovely, it was interesting to hear about the other people she has met across the country.
"It has been lovely to know that it is a UK thing and it has taken off well across the country, it makes you realise that you are part of a bigger thing.
"I thought it was great the book has been done and it's a really interesting book, they are selling it in Needlecraft and The House of Elliott in Old Town."
The book is also available to buy on Amazon.