Hemel author's debut book wins top honours at the Royal Automobile Club Motoring Book of the Year awards
The awards are now in their seventh year
Thursday, 19th November 2020, 8:48 am
Updated
Thursday, 19th November 2020, 8:50 am
An author from Hemel Hempstead has won the Motoring Book of the Year award for his first book.
Richard Jenkins, 42, of Bennetts End, won the award at the Royal Automobile Club Motoring Book of the Year Awards with his book, 'Richie Ginther: Motor Racing's Free Thinker' - a story about American motorsport legend Richie Ginther.
The awards, now in their seventh year, took place as a virtual event on Wednesday, October 28.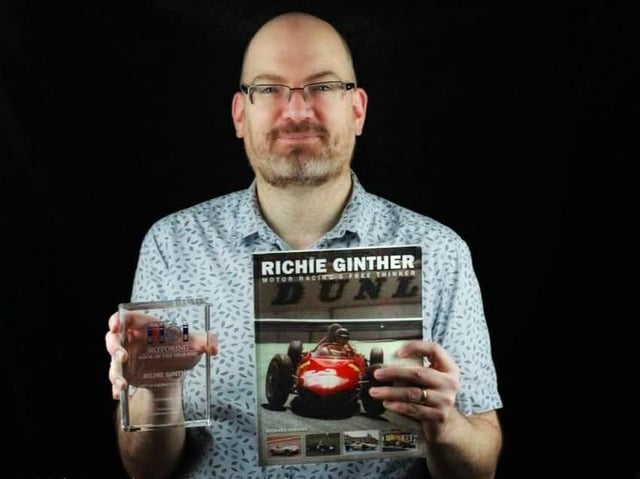 Richard Jenkins won Motoring Book of the Year at the Royal Automobile Club Motoring Book of the Year Awards (C) AJ Photography
He said: "It is my first book, I have run a website over the last 18 years that focuses on what racing drivers do after they have left the sport.
"The widow of a driver - the subject of the book - contacted me and said that what had been written about her husband was wrong and she wanted me to help put the record straight.
"So I wrote the book about Richie Ginther.
"About a year and a half ago I went to a publisher, more in hope than anything else, and they loved it.
"It was published and released in February this year."
"The award is the most prestigious international award for any motoring or motorsport book.
"It feels very surreal, especially because I received the award in my living room, rather than a big awards night!
"The response to the book has been amazing, and normally you expect to get some criticism along the way when you write your first book, but I have not had any.
"I am writing another book with the same publisher, and then we will see what's next when that's published."
The father-of-three works full time but hopes to be able to write full time one day.